Beginners wonder, how YouTube can help with the marketing of products and services? They also wonder why people think they should utilize YouTube for marketing purposes? There are several questions that come to the minds of beginners that newly enter the marketing world. The simple answer to their question can be the 5 billion daily views on the website. Yes, you heard right. The total population of the world is around 7 billion, and every day around 5 billion videos are being watched on YouTube. Therefore, experts consider it the best lead generation platform for businesses.
YouTube was launched in 2006, and in 16 years, it has come a long way. Owned by Google, YouTube is the second largest website in terms of viewership. It is the world's biggest video hosting and lives streaming website. The social media website was created with the thought of sharing videos and has become a big platform where billions of videos are viewed every day, and millions of new videos are also being uploaded.
Why Should Businesses Use YouTube for Lead Generation?
Why shouldn't they? A question that should be asked is why shouldn't a business use YouTube? YouTube has a huge audience that can help expand your business. Businesses should use YouTube as their main lead generation channel. The number of users on YouTube is way higher than on any other platform. Through video creation, companies can market their products more efficiently. Written content does help with the marketing of products, but videos are in another league. The impact created through videos is far higher than that of written content.
Through videos, companies can provide reviews of their product; they can also showcase the quality of the product and its usage. Services can also be marketed that can help gather data of clients. Companies can provide information about their products and gain reviews through comments. YouTube has more than 2 billion daily users, a big lead pool available to marketers for diving in. YouTube for lead generation is the best channel.
Importance of YouTube for Lead Generation
As mentioned earlier, YouTube is a very important tool for gathering clients. YouTube has the second-largest daily active users network; this makes it the best place to look for new clients. The social media platform allows users to upload videos and further analyze the impact of the videos. CTA and other customizations are also available, which benefits use a lot. The following are benefits of using YouTube as a channel for lead generation strategy:
Huge Audiences
YouTube has more than 2 billion daily users; no other platform offers such a big consumer pool. Organizations can utilize this channel for marketing purposes and redirect huge traffic to their website. The only thing they must do is create compelling videos that entertain people along with advertising their products. Use relatable captions with your products and add CTA to redirect traffic to your own website. Videos Convery messages properly while written content cant. Therefore, initiate your next lead generation strategy on YouTube to gather more leads.
Visibility Over Google
Use content that is relatable to your products, add SEO captions to your videos to get recognition on Google. YouTube videos are now being displayed more results than in the past. This is an opportunity for marketers to get visibility on Google. Use SEO in captions along with Hashtags to become more visible over the search engine. Visibility over google can help with the lead generation strategy of your business, making it more successful.
To gain more visibility, share your YouTube video over different websites. Add links to your brand's social media accounts and engage it on a different platform to make it more visible over google. Through efforts, your YouTube videos can start displaying in related searches.
Earn Instead of Investing
YouTube is considered the best social media platform for marketing purposes. Different channels are available on the website that reviews products and markets them for different organizations. They not only charge those organizations for marketing the products, but they also earn money from YouTube. The website pays content creators on its websites, so organizations that intend to market their product on this platform can even earn instead of spending on marketing. YouTube lead generation can be highly beneficial in terms of cost and investment.
It is the best source of marketing for startup organizations that have low budgets. They won't have to spend any money. Instead, they can even earn a great sum of money if their videos get traffic.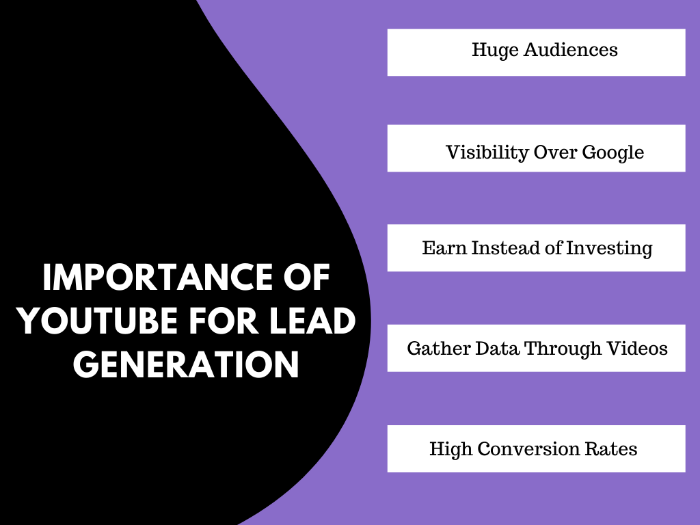 Gather Data Through Videos
Software is available that allows form integration with videos. YouTube allows the organization to add forms to their YouTube video to gather prospects' data. Videos are the most convincing content. Through videos marketing department can easily convince the user to fill in the forms. Proper guidance can improve the quality of the lead. YouTube Lead generation forms can help you gather effective data, which would increase conversion rates.
Forms can be embedded in videos using software that allow you to gather contact information of prospects on the website. You can easily connect CRM software with the forms to further nurture the lead with communication.
High Conversion Rates
YouTube videos convey the whole message of the company that isn't possible through written content. Marketing departments also show usage of products through their videos which increases the trust of people in the product as well as the company. Customers are nurtured through videos, and after gathering data and communication, they can easily be converted into customers. Lead generation through YouTube is far easier and more successful than any other medium. People are easily convinced by videos because video content is easily understandable, and people learn more by watching rather than reading.
On-screen display of usage also increases trust among the audience, which results in the form of conversion. So, YouTube is the best channel when it comes to the quality of leads created by any marketing channel.
YouTube Lead Generation Strategies to Use
There are different antics that are used by markets for advertising and marketing over YouTube. They use different strategies to create a data bank and use it for nurturing purposes. The best thing about this platform is the high number of users available on the website. Marketers can easily grab the attention of people and persuade them to gather their information. They provide offers to gather information and help companies grow businesses. Following are the strategies carried out by marketers on YouTube:
Content Optimization
YouTube videos are uploaded on YouTube, but along with the content inside the video, the title and other details should also be optimized. The use of links in video descriptions can help rank the videos. YouTube uses algorithms to display videos in search results. The title and description of the videos uploaded to the website should be search engine optimized in order to rank in the top position. YouTube allows you to add links to the description that also matter while the video is searched over other platforms. SEO is essential for the ranking of videos on YouTube. Highly optimized videos are also displayed on google, which increases traffic for the organization. Marketers should use SEO while developing a lead generation strategy for YouTube.
Experts suggest that proper SEO videos can bring better results. Studies suggest that videos with the main keyword in their title are more likely to rank higher than other videos on the platform.
Call-To-Action in YouTube Videos
The website allows content creators to add CTA in their videos; CTA is buttons that redirect users to other pages or videos when clicked. CTAs are highly used in marketing strategies, especially when organizations are looking forward to gathering data from clients. Call-to-action's addition to the video can help organizations gather better information regarding the customer. A marketer can also provide links to other videos in the end, which can help them mature audiences. Most users click on links present at the end of the videos, conversion rates of such links are very high; however, one still has to design and create them efficiently.
YouTube for lead generation allows the addition of CTA in videos but doesn't force users to click them. It is the job of the marketing department to create such a call-to-action button that prompts users to rection. An efficiently placed CTA can do wonders for marketing departments. CTA should have vibrant colors, and it should be visible enough so the user can easily recognize it. Place it in a spot where it is easily identified.
Engaging Content Use
Videos are created, and everyone creates videos, but why would someone spend time watching videos of your brand. The question sounds fair; in the current world, people do not have enough time to watch your product demonstration. They have enough work and stuff already. How could organizations bring the consumer to watch their videos? The answer is simple to create engaging and attractive content with humor and other tactics. YouTube is a free platform where creators are given full liberty to experiment. So, to find the right type of content for your product, do experimentation. Create different videos and watch their analysis at the end. The type of content with more views will be perfect for your marketing.
Most marketers use explanatory videos, which are also popular among people; however, a new thing will attract people more. Think out of the box create something that becomes unified with your brand. IT would create brand recognition and would improve your lead generation campaign.
Collaborate With Influencer
Most YouTube influencers charge companies to promote their brands. Collaborating with such promoters can improve the traffic to your website. Ask to add your website address to their video description and promote your product. Contact the content creator who is relatable to your brand's niche. If you sell sportswear, use someone who has content related to sports. If you are a fashion brand, collaborate with an influencer that has expertise in the fashion industry. Your YouTube lead generation would explode with quality leads.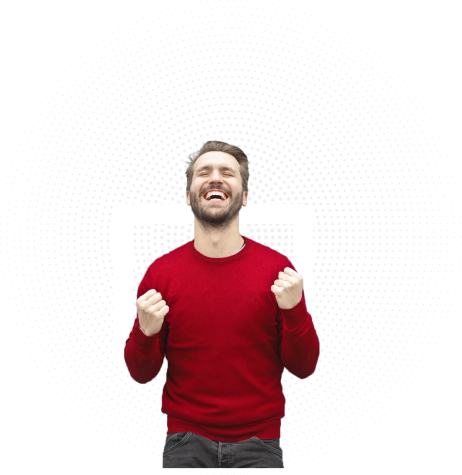 Need more warm leads ?
Outsource the routine process of lead generation with Periodix
Conversion chances are high when influencers with the same niches are hired. This would increase traffic to your website. The user visiting website or landing page will have a higher chance of conversions because this is what influencing is all about. Influencers can easily manipulate the audience, and people try to follow and do what their idols are doing; therefore, this method is best for your marketing purpose.
Add Links To Website and Interact
Interaction with subscribers is very important if you are creating a video for a brand and using people. Try using a single face, and your video doesn't use people, then the voice in all videos should be the same. This could help create a loyal fanbase which is beneficial for your lead generation strategy. A loyal fanbase is always ready to follow commands, and this would help your brand gather prospects. Interact with the audience through live videos or by replying to their comments. This shows audiences that they are being valued, and this could improve conversion rates.
The link to the brand's official website is essential in the description of the video. Links to social media accounts and other websites are also added to give more worth to videos. Add an official website link on top and make it visible to divert traffic to that website. Use convincing material to persuade customers to visit the official website where they would eventually provide their personal information increasing lead count.
Conclusion
YouTube is the best platform for gathering prospects. The social media platform has the highest traffic regularly; advertising on such a platform can improve traffic to the website. Above mention, strategies can also help with gathering information about prospects and persuading them. YouTube for lead generation allows the integration of software, which helps companies gather better data about their potential purchasers.