There are different channels that provide leads to your business; these are the lead source that helps sustain your business. There is more than one option from which you can gain clients for your business—knowing all possible ways enables an organization to exploit all channels. An increased number of channels can mean an increased number of clients, and every business and company desires to increase their number of clients. An organization that's been working in a field for a long time just follows traditional ways; they do not search for a new method of approaching clients; corporations are even sure about where their clients are coming from and how to make new channels.
Leads sources exist all time; organizations just have to identify and exploit these channels. A perfect lead generation strategy with a proper channel marketing department within an organization can do wonders. Knowing all possible methods to increase client base allows businesses to grow rapidly, providing them more profits from low costs.
What is a Lead Source?
Channels that provide leads to a business are its leads sources. These marketing channels provide clients to the businesses and have specific audiences that provide their contact information and buy products from the organization. A company can have many channels that bring in leads, but the best channels do not depend upon the quality of the information provided by the client; the higher the conversion rate better the performance of the channel. The marketer in a company has the job to identify which channels have more qualified leads and how to exploit them properly.
Source leads are identified by the marketing department; they utilize resources to nature them waiting for conversion. The quality of information on the client, along with their willingness to purchase an item, highly influences the conversion rate. It is the job of a marketing expert to identify which channels are bringing in clients like these and focus on them. Businesses should always use more than one channel for their marketing campaigns.
Why do Organizations Need to Track and Manage Lead Sources?
Asking questions like these from expert marketers is not expected; however, a newly entered producer can have inquiries like these. An experienced person knows the importance of source leads, and they know why these should always be tracking these mediums too. Different mediums bring in different numbers of prospects to the business, and it is the job of the marketing team to know where they are coming from. Marketing department Identifies them to work on better channels and avoid channels that don't have good conversion rates. This helps reduce the cost of marketing. Following are some important benefits that force companies to track and manage their leads sources:
Reduce Cost and Time Saving
Organizations might be using different channels for their marketing campaigns; all channels do not bring equal traffic to the company. Some bring more prospects than others, but some have a higher conversion rate. It is due to the niche of business, so advertisement teams should utilize tools to identify channels with a high conversion rate. This can help them allocate their forces to the right spot. Finding the right channels reduces the marketing cost of the organization and also saves the time company from spending on source leads that do not convert.
Targeted Campaigns
After the identification of important channels, organizations can use targeted campaigns. A targeted campaign has a far better impact than a normal campaign. This increases the traffic towards the organization. Source leads are identified, so marketers devise marketing plans accordingly, which leave a high impact on prospects increasing conversion rate and providing them with more knowledge than before. Targeting the audience ensures an increase in sales which is the backbone of any business worldwide.
Focus on Quality
Through the identification of source leads, organizations move toward quality leads instead of quantity. Several tools available online help identify the performance of online marketing mediums, Some marketing channels bring in a huge quantity of prospects, but the conversion rate is pretty low. On the other hand, some resources do not bring numbers of people to the organization, but all those prospects coming from those channels end up purchasing. This forces organizations to focus on the quality of lead instead of the quantity.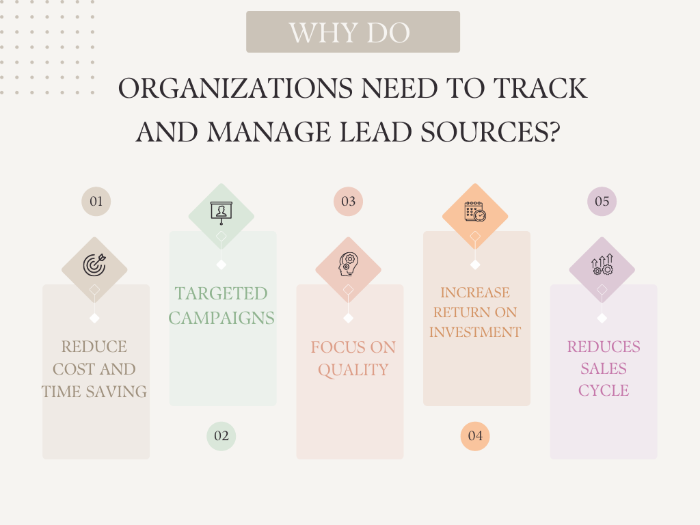 Increase Return on Investment
To acquire new clients, corporations spend money on lead generation. Marketing teams use different marketing tactics to increase clients; however, there is a cost that the corporation has to bear for each client. Identifying quality source leads reduces the acquisition cost of a client. The conversion rate goes up, which brings in increased revenues. Return on investment against every client starts to return more than usual. This helps elevate the profits for the producer.
Return on investment is important for business; the higher the return of investment, the more producers will be willing to spend because the amount of return that they are getting on their money is increasing. Identifying leads sources can have such a solid impact on an organization. This shows the importance of identifying and following sources.
Reduces Sales Cycle
Communicating with warm leads is possible if the organization starts identifying the source leads; finding out the channels with qualified prospects makes it easy to push them down the marketing funnel ending in the sales department. The sales cycle is the period and a number of steps the marketing department has to take to convert a potential client. Identification of better resources allows companies to reduce the sales cycle. This helps with cost reduction and saves resources for the organization, which can be further utilized.
Digital Lead sources Organizations Should Use
As we said earlier, there is more than one lead source, and identifying and exploiting them can change the game for an organization. Source leads identification can open new gateways for an organization, and then tracking the prospects coming from ne channels help find the best among them. To find the best first, companies have to find all the mediums that they can use to collect data of the clients and attract them for purchase. Following are a few digital marketing channels that can help companies with new prospects:
Marketing Through Mails
Emails have been the most viable channel for decades, with the development of the internet and emails. Marketers have started exploiting it for marketing purposes. Advertising through emails and inquiring about purchases is the most common practice in the organization. The use of email marketing has become common; the method is old, yet most marketing campaigns are run through this method. Organizations newly entering the market should utilize this channel.
How new can a company perform better than old companies through this medium of marketing? The solid question, however innovating with the email technique and personalizing sent mails to a certain extent can do the job for the company. Source leads through emails are best because it doesn't disturb customer. Rather, they can easily ignore them if they are not interested.
Search Engine Optimization
Organic leads are the best; SEO is the best method to create organic traffic. The best thing about organic traffic through SEO is that it has a higher conversion rate, while on the other hand, the cost for this method of creating new clients is quite low. Marketers consider SEO as the best tactic to gain clients' attention. Content optimization, according to the search engines, helps it appear at the top of searches. A consumer searching for specific items opens these links to learn about the product. They mostly end up purchasing the product from the website they visit. SEO can be considered one of the most important lead sources.
Organizations entering the market race should focus on their content, making it optimized for search engines. This will increase inbound traffic to the website. Organic traffic is the most reliable traffic with the highest chance of conversation. Their sales cycle is also short. So, utilizing such marketing channels can improve the working of the organization.
Social Media Marketing
Social Media is the most influential medium of all time; people are highly influenced by social media, which was introduced as a means of communication. Social media has become part of life now. Organizations use these platforms to sell their products. They provide source leads which result in sales. Social media platforms have more than one way to promote products; moreover, the changing trends have increased the importance of social media in every field.
Customer also desires the use of social media to interact with organizations. Most brands have their official pages online. They use nurturing strategies to increase the interest of clients in their products. Targeted ads over social media can also help with brand recognition. Social Media creates trust among the purchases. They can be related to the organization through social media and purchase their products when intrigued.
Marketing Through Influences
As the name suggests, influences can influence the spending patterns of people. They have huge control over their fan following. The young generation tries to follow their idols on social media. Not long ago, organizations used celebrities and different famous people for their ads because they had influence over people, and they could have altered the pattern of spending. Now that time has changed, the power has come into the hands of influences. Influencers are one of the most impactful leads sources.
Numbers suggest that most young generation follow their social media idols. They try to adapt their lifestyle, marketing products through these social media influences can make a lot of money for the companies. These social media stars charge lower than film stars and television actors but bring far better results. Conversion is indefinite from the leads coming from this channel.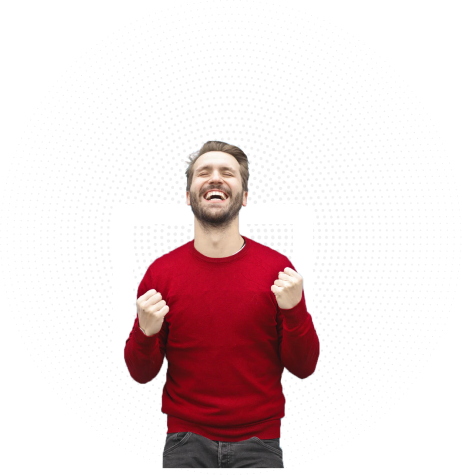 Need more warm leads ?
Outsource the routine process of lead generation with Periodix
Paid Ads
Paid Ads cost a good sum of money; several websites with huge traffic allow the organization to display their ads. Their algorithms allow organizations to display targeted ads. They are one of the best lead sources that can be exploited by an organization. Bigger brands, as well as small businesses, all can take help from this resource. Paid ads show performance with data; organizations place forms with offers for gathering data through these ads. Marketing experts consider it among the best marketing channels in the world.
Google, Facebook, and several other websites allow the display of paid ads. There was a time for advertising on television; now, people spend more time on the internet than on television; therefore, the method of marketing is also changing with time. Companies utilize these new methods to approach customers to increase their sales.
Referral
Mostly considered outdated and obsolete, experts claim that referral programs are the most efficient method of creating a buzz for your business. Referral programs are offered to already present customers in exchange for an offer or cash. Word of mouth is still the best method of marketing; referral programs use that method to gather prospects for the organization. It is one of the oldest yet best lead source. When it comes to shopping, people believe their peers rather than anyone else. Referral programs make those peers agents of the organization who spread good words around.
Marketing teams have been using such programs; several big brands use this channel for the creation of new clients. Conversion through this channel is obviously high because the people bring their peers ready for transactions by doing organizational jobs for them.
Conclusion
Identifying and working in marketing channels is very important. Organization requires audiences to sell their products. Through lead source identification and utilization, an organization can create new customer pools for them. There are several digital channels listed in the article that can help the organization find clients at minimum cost.