A questionnaire that companies require to gain knowledge about their customers: they are necessary for every field, and success of a better contact gathering campaign depends on the questionnaire. It would be best if you asked questions that make sense and are easy to read. Basic information is often required, and it becomes boring. So, creativity is critical for achieving success in this area of marketing. Marketers devise proper planning before making lead generation forms for the audiences.
So, it is essential for them to gain prior knowledge about their design and data present inside. Examples help in this regard, and a few of the finest examples are provided in the article for help of new businesses
What are Lead Generation Forms?
It is a medium that helps companies gather data regarding customers. Clients often visit websites but do not give any information and leave. Organizations want information to work credibly, and marketing teams can approach prospects interested in their products. Data can help follow-up or approach potential buyers. So, to gather data from users on websites or in-person, organizations use questionnaires, which are called lead generation forms.
They are designed and given in such a way that consumers cannot say no to them. A credible lead generation strategy depends upon the type and quality of the questions. Questions about simple and basic knowledge are easy to ask, but changing their structure and making them attractive is art. Experts have their way with them and use their extra incredible skill to devise such questions in a unique way. Rewards offered after form matter because this is the only reason why people put their effort to fill their data for a company. Lemonade is a perfect example of this; they turn a lead generation form into a normal conversation that gives results.
Why do Businesses Need Lead Generation Forms?
Businesses need them to fulfill their data requirements. Advertising through television and billboards is getting old. People have gained consciousness that can easily ignore them; however, a new way of generating traffic is increasing. Companies use data techniques to persuade shoppers in markets. They use data to reach up to clients who are interested in their products. Now the real need is data, and data gathering is done through lead generation form.
So, companies use them to gain knowledge of people that might be interested in their product. Prospect gathering is done through these questionnaires. So, it is the most essential document for companies around the world. They can gain much from them, and designing them requires technique and experience. Marketing teams are charged with this duty to devise them in such a way that the person visiting the site automatically fills in the information. CTA button with offers is used to persuade clients to do what companies want them to do.
Top 14 Lead Generation Form Examples
Forms allow you to execute your strategy to gain clients' information flawlessly. You get knowledge about clients and their preferences. To gain the understanding, you need them to fill up forms, and credibility of forms matter because they will ensure effectiveness of the strategy. A form well executed will have a positive effect on the users and might be helpful during conversion. So, organizations try to achieve feasibility and attractiveness in their lead generation forms. Following are some examples of some incredible questionnaires that help organizations gain more knowledge about clients.
1. Lemonade
Lemonade is the top leading name in the insurance industry and works to make life easy. Their platform allows visitors to find the best insurances that meet their requirements. Finding insurance is one thing; gaining knowledge about customer preference can get you thinking. Requires massive amounts of data. Lemonade has made it easy. Their incredible lead generation form has taken a step further in making the questionnaire more fun. Giving names to their form and asking about information in conversational methods makes it easy and fun for users. Once the visitor enters their name, it starts addressing them by their name.
2. Unimetric
Unmetric, incredible tools designed for social media integration, Sleek design and unimaginable features make it an excellent choice for businesses. Social media lookout has become easy with this web app. Demo requests require visitors to fill-out data regarding themselves. Company has done an incredible job designing questionnaires that don't look like one. Users provide information without thinking about it. Horizontal alignment makes a huge difference in the look. One of the best lead generation form examples.
3. Chamaeleon
A Chameleon doesn't need user information; however, Chameleon might require it. A web page that allows users to manage their emails properly. The platform has incredible technology that helps employees answer emails effectively. Chamaileon provides a half month trial, and you can check out all of its features during this time. The best thing about them is the signup form. It is effortless and subtle; you can sign up in just five simple steps. There is no need to confirm any information provided they just write everything and finish to get inside. No distraction, colorful CTA and compelling design make this lead generation form incredible.
4. Medium
Medium is an online website that allows customers to read and share their thoughts. Stories from people worldwide are shared on this platform that can be accessed easily. Some stories require membership, and this is where the need for a questionnaire comes in. People have a big problem with answering questions and writing stuff about themselves. So, medium allows easy access to their website. Just integrate a Facebook or Google account with the platform, and you are ready to scroll everywhere. Signing up through mail is pretty easy, too; just add mail and confirmation code and your lead generation form is complete.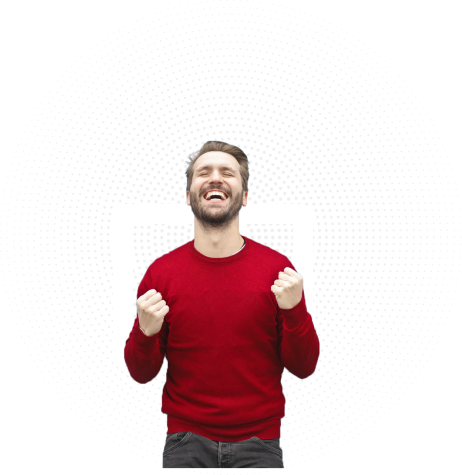 Need more warm leads ?
Outsource the routine process of lead generation with Periodix
5. Expat
Expat has done an incredible job creating their questionnaire; they have done impressive color design that makes it look good while filling it out. Expat does everything one can imagine online. Building networks to join events, find homes, and find careers, the company does everything for users. If a person is relocating, it's a website that experts would recommend. Registration process is also feasible; link any social media account or register using email. NO confirmation is required. Well, the CTA gives this lead generation from its fantastic look.
6. Uber
Fantastic taxi service that doesn't require standing on the road or waiting for someone outside your apartment. An Uber driver arrives at your request, and a message notification informs you about their arrival. Company makes it easy for everyone to access their application; therefore, a single application is devised for employees as well as customers. Two-way services require two lead generation forms. Problem is solved with the first question that takes drivers to their registration area and customers to their own. Segmentation makes it easier for both sides to utilize appropriately.
7. Single Grain
Single Grain is like a single solution to all marketing problems. Providing unique advertisement plans for companies all around the world. Companies like Uber and Amazon take help from their exceptional services. Who else will have better lead generation form examples than this website? An interactive form that shows progress along with each step. Uses names of clients and logos in design gains the trust of new users. Gathering data about the whole business is complex; however, the incredible design makes it easy and fun for all.
8. Daily Harvest
Daily harvest takes care of people's diet, providing perfect plans for body type and delivering food to your place. Site requires tons of data from customers to provide better facilities. This incredible webpage has the best lead generation form online. The templates work perfectly with the background giving unique looks to everything. Popup forms are excellent, but a new landing page with high quality visual and progress tracking takes it a step further. One of the best examples you can find over the internet.
9. Website Grader HubSpot
Tool that can make your website faster and better, by finding faults in a product you can improve its performance. Application is desired and used by hundreds of followers, and working astoundingly comes with strategies. Website grant access after inquiring two questions, web address and email. Provide both and get a fantastic audit of your website. Know everything you need to know about your website with this tremendous one time premium offer. HubSpot lead generation forms are concise and straightforward, and it uses free trial to keep visitors stuck to their service.
10.Freckle
Freckle takes care of business like none other. Amazing offer allows small businesses to connect and track their data through websites. Freckles form is one of the best lead generation form examples. Filling the questionnaire isn't essential; a cross on top indicates easy exit, which is vital for such data collectors. A few persuasion lines and problem creation with solutions attracts users to give up their information. Free offer in the Call-to-action button guarantees a push from almost all visitors to the platform.
11.CompareTheMarket
CompareTheMarket allows comparison among different products of the same type. Going out of station or abroad, this incredible platform helps you devise the best strategy. The incredible thing about this website is that it has to acquire knowledge, yet it does it very smoothly. Tons of information is required before compelling the request, but the company is always successful in getting the information. Their user-friendly interface allows easy movement on site. Clicking and drop-down menus allow users to select options easily. They get every opportunity they need and quickly fill up the whole lead generation form given to them.
12.Spredfast
Spredfast is a website that allows connectivity over the internet. Social media platform that enables people to connect with each other online. Incredibly efficient for businesses that utilize analytics for their conversation. The website also provides a perfect example of lead generation forms; the form is simple in design yet offers thorough information. Vertical structure makes it understandable. The CTA button has an interacting text that allows users to feel secure while adding data to the platform. Free demo offer works as a persuasion tool for the user to spill information.
13.eHarmony
It's an online website where people visit to find love. Digitalization has changed how people used to do this too. People visit websites to find someone who matches their choice. So, a lot of data is required to find someone's love interest. eHarmony uses a quiz type lead generation form that allows users to fill in their details quickly. The form is long, but keeping in mind the nature of rewards and requirements for data, people fill up the data to get benefits. However, the design of the questionnaire is pretty simple yet striking. Color scheme is used that helps get the correct information from the right people.
14.Plivo
Plivo is an online application that integrates with your business to provide cold calling and SMS facilities. The application works ideally worldwide. Giving you extra help during work. The app works incredibly online, and they acquire knowledge of customers before registering them on their site. The form displayed over their site is placed perfectly if you look at putting it on the right side but included to the center.
Another thing is the placement from top and bottom. It's near base, so easily visible. Information and persuasive knowledge are given at the center of the page, making it impossible to ignore. The lead generation form on the website is concise and requires little information for a credible reward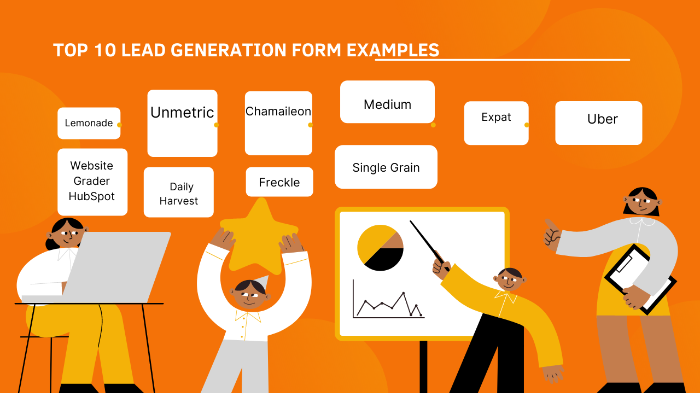 Conclusion
So, these are some lead generation form examples that are unique and laid with features. Each data chart has a unique look that sets them apart from the rest. Businesses can take help from the list for making a questionnaire for their clients. Type of reward matters for a for. If the reward is enormous and the customer is intended to get it. They will go to any lengths for it. So, long forms can be used for this genre. Small and concise lead generation forms are required if the seller doubts that people won't make an effort for it.