The platform for professionals is a social media platform that allows connecting with people in the field—growing online with a community that shares the same interests as you. People come together on this platform to interact for a business matter; unlike Facebook, LinkedIn doesn't allow entertainment; instead, it's strictly for businesses. Through lead generation LinkedIn enables organizations to reach people they find interested in their products.
How do people generate audiences over this platform? How does it work and benefit corporations? Why is it important to use it? Do people generate leads from LinkedIn? All of these questions will be answered in this article. Organizations newly entered the Business field can learn much through this article. Ads through this channel can help capture a B2B audience that isn't available anywhere online.
What is LinkedIn Lead Generation?
Lead Generation LinkedIn is a process through which institutions connect or gain information of people that show interest in their services through LinkedIn. Organizations approach people that also have the potential to become clients. The approach includes customers from every walk of life. This social media channel is famous for providing B2B clients; however, B2C audiences are also available. Creating prospects through this medium is easy and cost-efficient.
Newly introduced features and optimization of the platform have made it a vital tool for marketing departments all over the world. Newly introduced tools make it an efficient medium for approaching potential buyers. Generate leads from LinkedIn using its fast tools and approach targeted audience. Ads can be displayed to attract people and gather information for follow-ups and further persuasion.
Why Use LinkedIn for Lead Generation?
The question should be, why shouldn't we? The platform allows automation and provides training for new businesses to generate traffic. Courses are available on the website to train and help people learn about an effective method of generating leads on LinkedIn. You can target specific audiences with the help of special tools. Ads allow easy information collection through forms and connecting it with CRM tools for further ease. Following are some benefits of using this channel.
Feasible for New Businesses
New businesses that enter the market face competition and require methods that are easy and competent. If you are thinking about generating leads, LinkedIn will help you through all processes. Guidelines available on a website make the whole process easy for people with no experience. It is recommended for new organizations specifically looking for cost-efficient methods of approaching customers.
Audience Targeting
Targeting a specific audience is important if saving time and cost is a priority. Filter on ad campaigns enables corporations to target a specific audience that has a higher Chance of conversion. Marketing teams know about products and consumer preferences. Through little research, a specific group of audience can be found and targeted to achieve results. Lead generation LinkedIn provides results and high conversion.
B2B Clients
Businesses looking for B2B customers, then you are at the right place. It is a business platform that allows interaction with professionals. You can find people looking for jobs or firms looking to hire. Targeting your next potential client is easy on this channel. Use the tools available online to target people that have potential to become your emotions. Approaching a business client anywhere else can be tricky, but in this medium, it's as easy as knife through butter.
Organic Traffic
Organic traffic on social media platforms is hard to earn but not on this platform. Organic traffic by lead generation LinkedIn tools is very easy. Add the right content to your account over the channel and provide extensive information regarding the product. This will increase chances of organic traffic inflow to your account. SEO for the platform search can help increase traffic to a new level. Persuading visitors and further conversion depends upon the content available on the website and graphics used in it.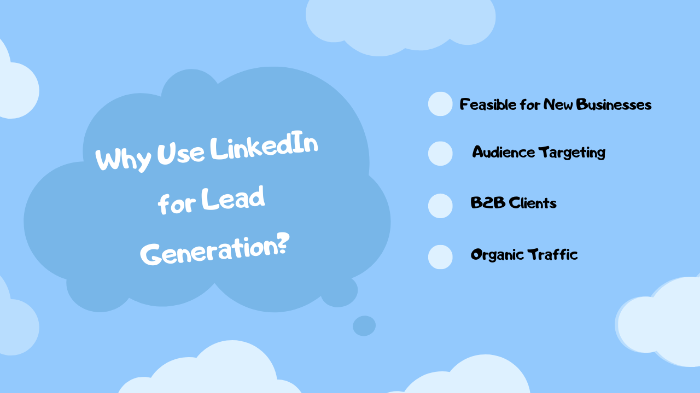 Best Practices for LinkedIn Lead Generation
Lead generation LinkedIn is easy to manage, and even a newly entered person in the field can operate it. Operation is easy, but effectiveness needs expertise; you must know things that affect the quality of leads created by the channel. There are several things to consider while initiating an effective ad campaign on the platform. Following are some of the tactics that can be used to attract audiences and further convert them to brands.
Organic
Organic traffic is generated when customers approach the companies themselves. People approaching and providing their data themselves is possible if you work on your account. Lead Generation LinkedIn through organic ways is possible if companies utilize SEO content on websites. Along with search engine optimization, engaging content is also required, content that appeals to the audience.
Prospects approach accounts, but if they do not find required information or data, they leave silently. Corporations can only gain data by uploading relevant content and attractive offers. Something that persuades users to spill beans. When organizations on LinkedIn generate leads organically, the quality of it is very high. Conversion is possible and small efforts can do wonders. These ways, cost is at its minimum, and returns escalate.
Inorganic
In this method, companies have to approach people through different tactics and gather data to persuade them further. Conversion is low compared to organic traffic because organizations have to persuade and build trust but in the previous, trust is already present. It is a long and needed process because traffic through organic methods is pretty low compared to Inorganic methods. Following strategies help companies on LinkedIn generate Leads.
Targeting Right Audience
Target the right audience that shows potential of conversion; irrelevant audience won't provide benefits, and ROI would be pretty low. Filters are available on a platform that allows you to filter out people that do not have potential to become future clients. Lead generation LinkedIn tools enable companies to target people through ads that have interest in their product. Relevant audience increases returns on Investment.
Investment in creating new audiences increases when irrelevant people are approached. People that already have provided information can be avoided through filters. Using lead generation LinkedIn tools, marketers can save time and spend less while making revenue escalate. To target an audience relevant to your business, you must carry out research. Find important keywords that influence filters and ads that can reach relevant people.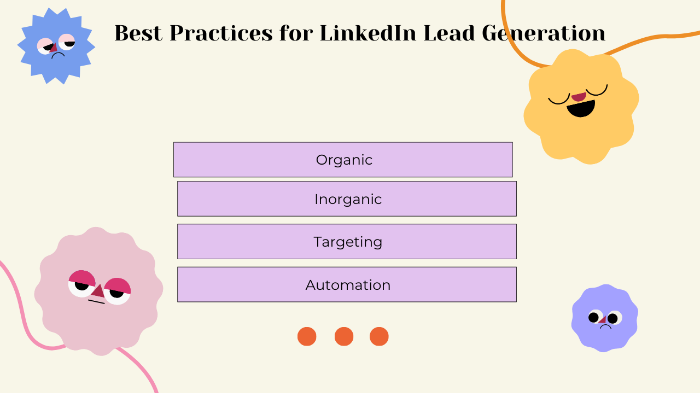 Better Offers
People are not crazy that they would provide their personal information for free; no one has time to fill forms for others without any benefits. Offers are provided to get data from clients, but what offers do organizations provide to persuade clients. Generating leads, LinkedIn requires offers that have value and would attract consumers present in the market. Use things that would attract people to fill out a form for your organization.
Free webinars, trials, and books are provided in exchange for information; free trials of services are the most widely used offers. The reason behind it is that free trials cost less and have a higher conversion rate. Marketing teams should use offers that cost less to companies and generate high revenues. LinkedIn generates leads if you use an offer that provides some value to consumers, and they are attracted to your offer.
LinkedIn Partner Programs
Partner programs allow integration of several tools that make your campaign more effective. Partner programs generate leads from LinkedIn far better and more effectively than any other method. You can create excellent content using the partner program over the platform. Several tools integrate your campaigns with customer relationship management software, improving speed and credibility of contacts created.
CRM tools are utilized for automation in working. Consumers that fill in data hope for a quick response; customer relationship management tools enable fast responses. Trust escalates among both parties and results in the form of trade. Partner help improves content, as the world of business says content is king. Lead generation LinkedIn improves through partner programs, and marketers should take help from them.
Automation
Automation is considered essential for a campaign that provides new prospects with a sense of recognition. If customers approach for any question on the platform, quick response from AI chatbots can help gain their trust. LinkedIn generates leads, but approaching and further convincing depends upon the corporations. CRM tools help automate follow-up. Personalized Thanks messages to a prospect can have a strong influence.
Companies should add automation in their Campaigns to speed up processes. Acquiring data and then uploading it to an email tool for cold mailing is an old method. Mailing as soon as data is received has a high impact on visitors. They feel important and can further become customers. Generate leads from LinkedIn and use automated tools to approach them for further persuasion.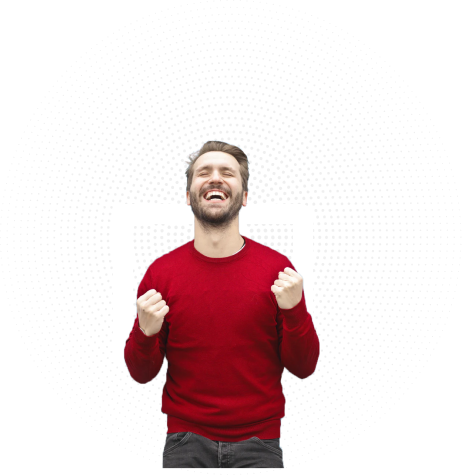 Need more warm leads ?
Outsource the routine process of lead generation with Periodix
Ads Styling
Ads posting online won't be effective if marketing teams do not put time into styling. Specialists highly recommend improving the styles of the ads. Marketers new in the job without experience consider it a waste of time. They think that styling does not have anything to do with influencing consumers. Lead generation LinkedIn highly stresses on ads design. Your CTA button placement and content fonts all have an impact on clients.
Ads are a first impression on people; if an unsymmetrical and weirdly edited ad popped up on screen, no consumer would want to work with them. Fonts, color, and placements are very important. CTA buttons are always in bright colors; this makes them easily visible. Place forms in the middle and keep fonts large enough to be easily visible. A good design can help generate leads from LinkedIn effectively.
Concise and Easy
Keep forms used in ads easy and concise. Conciseness in all content is available, so people don't run away before reading the whole thing. Conciseness can be achieved by keeping questions to the point. Integrate several questions together to save space and time for people. LinkedIn generates leads better if forms are concise and easy for people of all walks of life.
Forms can further be made easy by using the drop-down menus, and you must do your research and add all possible answers yourself. It will save time and will bring far more information. People do not have time these days, and drop-down menus can save their precious time.
Experimenting
Experimenting with content and the approach is the backbone of healthy lead generation; LinkedIn makes it easy to experiment with work. The process to change ads and questions is easy and doesn't charge you anything. So, marketing teams can experiment with the work to figure out what ticks the audiences. So, you can use different styles of ads on your campaign to find which one attracts more audiences.
You can also experiment with questions; the website allows you to experiment with your questionnaire. Change the format of questions and wording; use easy and difficult wording to find out which strikes customers. Experimentation improves the experience of the marketers. They learn what prospects want to work accordingly.
Conclusion
You can learn about marketing on LinkedIn by following this article. You will know about the method and important tips. The benefits that come with the platform will help your decision. Generating leads on LinkedIn is pretty easy and provides extra help to the marketing teams, reducing their burdens and improving results. Companies looking for B2B clients should join this channel for lead creation because here, they can easily find and approach business clients.