Email marketing is a pretty outdated method as defined by many marketing experts; ok, fine, it's an outdated method. Now, what to do? This method is considered to be one of the cheapest ways of approaching clients. Use automated mailing software and bang on; you could reach thousands of people with just a single click. Another thing people brag about this channel of marketing is that its conversion rate is pretty low. First, people do not open a mail, or they would go directly to spam. Even if opened, the click-through rate is just pretty low. Data from the previous year suggests that only 17% of mails are opened, and the click-through rate is just below 10%.
The numbers are pretty bad, and it looks like emails have actually become outdated; well, you are wrong. Increasing conversion rate is possible through methods suggested by marketers. Prospects could be influenced by utilizing several strategies. Marketer could improve their mailing methods and templates to increase the analytics. This article would be helpful if marketers require assistance in improving their mailing strategy. The article has listed six methods to increase the opening rates, along with the click-through rate. Following guidelines could help improve the lead generation campaign as a whole.
Tricks to Improve Email conversion rates
You have landed in the right place; yes, this article would help figure out problems with your current campaign and how it could be improved. Each business has a different requirement, and utilizing the following methodologies for all businesses might not work the same. Therefore, it is essential to know your business first; applying the following strategies and experimenting with them would definitely bring positive results. Following strategies are not for specific companies but can be considered universal guidelines for improving the open rate of emails.
Six tips are stated below to help the marketing department yield better results from their campaign. Follow these guidelines to improve your marketing campaign:
Attractive Concise Subject Line
What does a person see when mail is received? Yeah, notification, but what does a person actually lay his eyes on when opening an email. The answer is subject line; as name suggests, subject line gives an idea regarding the subject of the mail received. Impact of this single line is far more powerful than one could ever think. Marketers need to focus on creating unique and attractive subject lines that would instantly grab attention of the purchaser. There are several ways to improve, but the important thing is to keep experimenting. Nothing is permanent, so keep experimenting by improving on your subject line. Following are some ways you can make a better subject line:
Character Count Under 60
Only 60 characters are on Gmail or Outlook dashboard when a mail is received; for high email conversion rates, try delivering your whole message in 60 characters. Less would not give out a proper message, and more will also result in same way. Keeping it under 60 would make the cut for the organization.
Use Emojis
Utilizing emojis is considered informal for marketing purposes. It is considered unhealthy for businesses to utilize emojis. Times are changing; the best thing about this small face is that only 7% of marketers utilize them. So, it's an amazing opportunity to be unique and get your mail opened.
Personalized Subject Line
Personalizing the subject line is difficult; how could marketers personalize a 60-character sentence. It is suggested that adding a recovered name or any reference could be counted as personalization. Studies suggest that personalized emails have a 50% higher chance of getting opened. Implementing that utilizing names could increase email conversion rates eventually.
Attractive and Interactive
Attractiveness works better when you forward a mail that has an interactive subject line. It could be achieved by making the subject line action-oriented. Try communication with your subject line. Interactive subject lines tend to be more attractive than any other. Experts suggest making references or mentioning the receiver could be a great addition to the subject line.
Use Graphics In Your Content
Graphics in anything could make it better; prospects don't have time read through your email. They require an easy way out; this could happen by utilizing graphics in your content. Big blocks of words look boring and frustrating; utilizing imagery or videos would reduce stress that the audience could feel from huge paragraphs. Essential information could be passed on by marketers through graphics in a fun way. Use images or videos in the paragraphs, but they should be related to the message in the content. Adding unwanted graphics can reduce consumers' interest in further communication with the organization. Following are some important things to consider while adding graphics to your mail:
Type of Graphic
Images and videos, anything could be utilized to have a good impression on the receiver. The goal of marketers is to improve email conversion rates. Try to utilize images if text is necessary for the mail. Images could convey messages better and make content attractive. If there is a chance the receiver won't bother reading, even with images, use less text and add a video.
Placement of Graphics
Graphic placement in your content could make a difference; placing all images and graphs at the end or start would definitely ruin the while thing. Try adding graphics within the text, and add relevant paragraphs in such a way that the image stands out. Graphics can increase the open rate to double, so their addition is essential.
Call-To-Action Creation
The creation of an attractive CTA is important; CTA is what will bring conversions. So, to increase email conversion rates, it is essential that your email has a CTA that stands out. CTA is the source of traffic generated to your website or landing page. Creating a call-to-action button that stands out is vital for the click-through. Placement and the color scheme make it stand out. Experts suggest creating CTA with attractive texts so the consumer is forced to click on it. Make it obvious and stand out that encourages people to take action: Following are some tips that could help with creation of a successful CTA.
Call-To-Action Button
Several methods are available for call-to-action placement; it could be a specific word or image or a special button created for obtaining the offer. Utilize a CTA button in your email to make it stand out and encourage people to click on it. A reader would easily identify the CTA in the mail.
Placement of CTA
Placement can make a difference; studies show that a CTA placed on the right spot has a tendency to increase click-through by up to 15%. This shows the importance of its placement in the content. Keep your button just above the fold; the goal is to make it visible and clickable by the audience.
Action Oriented
Action-oriented CTAs are more likely to be clicked by the prospects; prospects are provided with the offers to click on the CTA to get to a landing page. Making an action-oriented CTA would encourage users to click on it. Click here, Purchase now, or connect with us are a few examples that can be utilized.
Concise
Keep CTA concise, yes, you would want to make it visible, and a bigger sentence could help make the call-to-action more visible; however, it is not the case. Studies suggest that longer texts could reduce the click-through rate reducing the email conversion rates.
Colors
The color scheme is something that is essential to your button; use bring color as they are more visible and would be able to gain more attention of the prospects.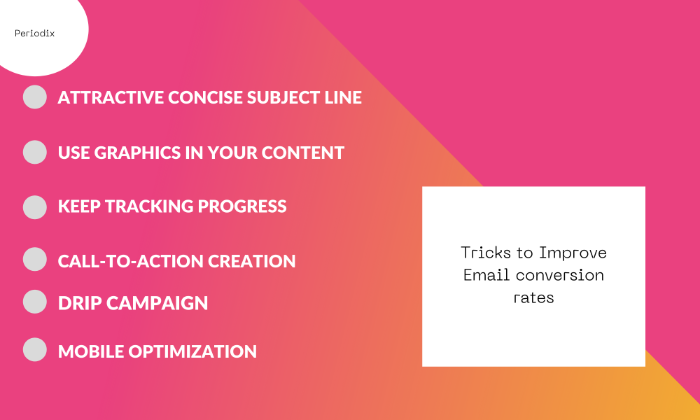 Mobile Optimization
If you ask a question, which is the biggest source of internet traffic, then the answer would be mobile phones. These small computers are becoming an essential part of our life, there was a time when people would have to wait hours to receive a mail, but now you can do it in a second on your mobile phone. Mobile phones, along with being the biggest source of internet traffic, are the most popular method of opening emails. Prospects don't have time to go to the desktop to open mails; they can do it on their cell phone. Therefore, optimizing them for such devices is essential for email conversion rates.
The question arises of how could marketers optimize them for mobiles; following are some tips that could help marketing departments:
Testing
Marketing department has mailing templates that are utilized for approaching customers and getting their attention. However, for mobile optimization testing, mail can prove to be fruitful. Forward mails to several mobile devices of different models and companies, check the format and correct if there is any problem with it.
Working Links
Working links are required in mails; when testing mails, check if the links and the clickable items are working properly on the device. If the clicks don't work even on a single phone, then it is essential to take care of the problem so it won't affect the email conversion rates.
Mobile Optimized CTA
CTA could become difficult to click on a mobile device; to optimize it for such devices, it is essential to make them more visible and easier to click. Give space above and below the button, so it becomes easy to click it to gain offers. It is the essential component of lead generation.
Keep Text Concise
Mobile devices have small screens, so texts look lengthy on the small screen. Busy mail would become hard to read for the user; therefore, to improve the email conversion rates and deliver messages properly, keep your content concise and to the point.
30 Words Subject Line
The subject line on desktops is recommended to be 60 characters as mailing platforms allow only 60 characters to be visible in the dashboard. However, with a small screen, there are chances that only 30 characters would be displayed over the mobile devices. Therefore, optimizing the subject line for mobile devices is essential if the marketing department wants high email conversion rates.
Drip Campaign
Marketing departments can utilize this method to gain high click-through rates. Being in marketing, you haven't heard about this campaign. Well, don't worry; this article has got you covered. A drip campaign is an automation process that involves sending personalized emails to prospects at specific stages of their buyer journey for nurturing purposes. The goal behind this campaign is to push prospects down the sales funnel in order to convert them. A drip campaign, if utilized effectively, could have promising results for email conversion rates. Following are some tips to make your drip campaign successful:
Creating Templates
Create templates for different stages of the buyer's journey, and automate the process by utilizing a CRM tool. Just add the mail template and schedule for the specific time, and then you can enjoy the results later.
Personalization
Personalization is a very affecting factor in lead generation; encouraging the receiver to click on the link and provide high conversion rates requires personalization. Send personalized emails to prospects at all stages of their journey to improve the email conversion rates.
Nurturing
Use nurturing mails that provides them information regarding the benefits of the product. Nurturing emails are utilized to increase the qualification level of the leads. Use them to persuade the consumer to click the links.
Keep Tracking Progress
Once the marketing department has initiated a successful mailing campaign, it is important to keep track of it. Marketing departments should keep experimenting with their content in order to find the one that clicks better. By tracking the progress of the campaign, marketers could get information about the things that increase email conversion rates. Once marketers are able to identify the factors that play a vital role in increasing conversion rates, they can make their campaigns more efficient.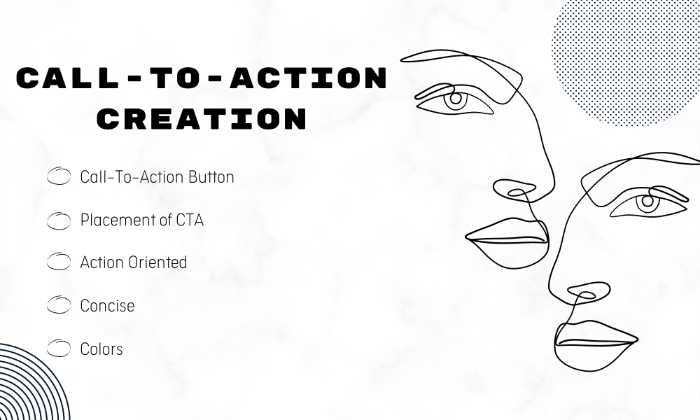 Conclusion
This article provides information regarding the methods which could help marketing departments in organizations increase email conversion rates. Mailing is the cheapest yet, one of the most effective methods of marketing. Utilizing the above-mentioned guidelines could help organizations improve their open and click rates to a whole new extent.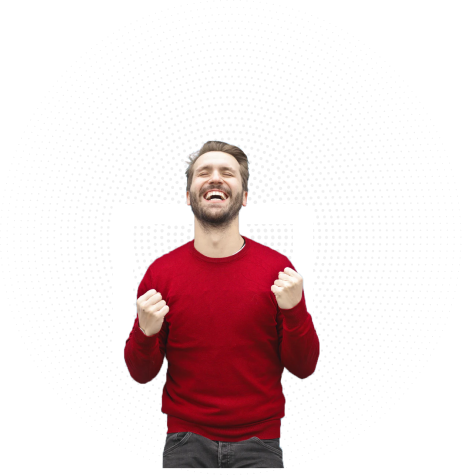 Need more warm leads ?
Outsource the routine process of lead generation with Periodix