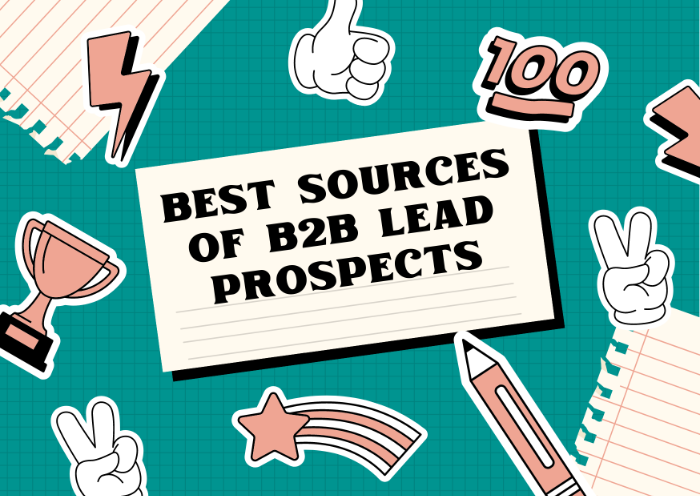 Customers are businesses to prioritize and prospect deals with getting those customers on board. There isn't a universal method of gathering clients, however, a bunch of ideas is available that could be utilized to gain more clients. Generally, there are two types of clients, business-to-business clients or business-to-customer clients. Both have their own requirements and nurturing methods also vary. The lead generation process in both cases is different therefore marketing departments have to take different routes to tackle consumers. Nurturing B2C prospects is easier than B2B client and require fewer efforts. Businesses dealing with B2B consumers have experienced sellers to capture consumers.
Sales teams utilize different tactics to capture prospects' attention. However, the biggest obstacle for the sales department is finding enough leads. Sales departments find it hard to locate prospects that could be contacted and nourished into customers. Businesses even buy information from third parties which are not reliable. Marketers utilize different strategies to capture new consumers but without the right place to look it, all goes down the drain. This article could help marketers understand the best sources to locate business-to-business prospects and nurture them into clients. Read till the end to learn about it.
---
Prospects
Before understanding the resources that could provide leads for companies, the marketer must understand what a prospect is? The most important thing a prospect has is an interest in the company's product or similar product. Businesses often build a customer profile and all consumers in the market that fit the profile can be categorized as prospects. Some prospects have already shown interest in the company by filling out a form or contacting the company by asking for further information regarding the product or service. Such consumers are potential customers and have a high chance of a conversion. On the other hand, some audiences haven't shown interest but fit customer profiles. They also have the chance of conversion but nurturing is required.
In B2B customers the sales department count decision makers of the client company as leads. If we are a manufacturer of heavy machinery for industrial usage, then any company that utilizes our products would be on the radar as the lead. Decision makers in that company that have authority to purchase products or influence that decision are considered prospects because the whole business cant is a prospect. Prospects have to fit customer profile which is derived from matching characteristics of present clients because they have a higher chance of a conversion.
Most marketing departments are responsible for lead collection. They target businesses that reside in a specific industry, however, there are different methods to approach them and capture their attention. Companies use messages in one-on-one meetups to nurture clients. This article will help marketers understand which means to use and where to look to find clients with minimum effort.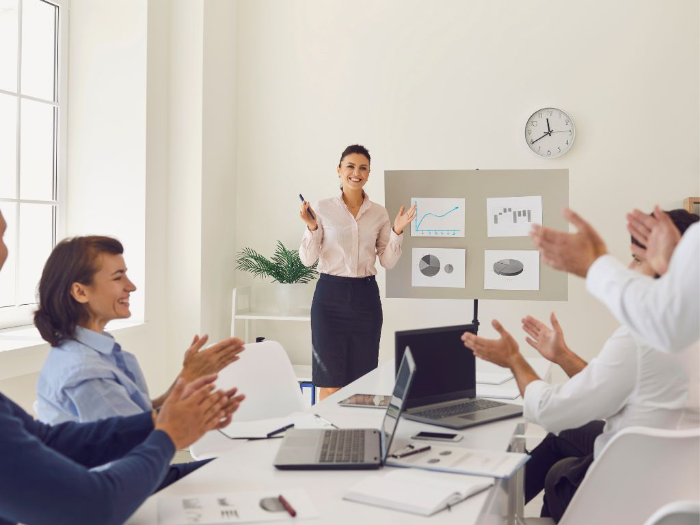 Don't know how to increase sales?
No problem, just know people.
Best Sources for B2B Prospects
As mentioned earlier different channels could be utilized to find prospects, however, a lead cannot be counted as a prospect until it fits the customer profile. Most of the potential customers come from online sources such as social media and websites. Contacting such people is easy as compared to the physical approach. Online software is available that captures their data and categorizes them. Prospecting through the internet has become easy and much more reliable. Business clients can be tracked on LinkedIn and contacted easily. Following are the top sources that could help companies gather clients:
Client Referrals
Studies show that almost 54% of leads are generated through this source for companies. Businesses have loyal clients and when a new person enters the market and searches for a solution. Clients refer them to their sellers. Such prospects have a high conversion rate and could easily be converted. Such consumers have a sense of trust already built by the previous customer of the company. Therefore sales team doesn't have to do much with such a lead. Referrals have much confidence in the business and the sales department has to channel that confidence and seal the deal with such consumers.
Referrals save costs for the sales department for lead gathering, referral already has valuable information about the product or service. An appropriately handled referral is a sure future client. So, companies must invest in current clients and provide them opportunities that build their trust in brands. Give quality user experience to gain referrals in the future. Referral programs are also launched by brands, where customers that provide referrals are provided incentives. Such programs could boost lead generation for the company. Customer remarks on the website and comments on social media also count and could grant companies referrals. So, brands should always invest in their current customers to ensure a fruitful future.
Email Marketing
Email marketing is considered by many an obsolete method of marketing, however, the source still has the potential to grab audiences' attention. Email marketing is the cheapest method of interacting with consumers. Personalized emails still have the magic of the marketing world. A personalized email can bring back an old client or capture the attention of a new lead. Prospecting through email marketing has become easy with new automated emailing tools. Artificially intelligent tools, use data available to create an emailing schedule and send out personalized emails to audiences. Creating a buzz around the market and grabbing the attention of people.
Emails are still the best method of sending content or contacting people. B2B clients require information and a well-designed personalized email could provide that information. Old customers could be updated regarding new designs of the product and upgrades. Emails have the potential to bring back old clients as new prospects. Generating leads through emails have the best future where the world is turning online. Become a customer while designing an email, add everything that one requires in an email, create a catchy tone and focus on the subject. Grab the attention of the customer with the subject line.
Internet
The Internet has the answer to all the problems and this is what could help companies gain more clients. Lead generation over the internet could help gather clients effectively. People go to the internet if they face any problems. Businesses could score such opportunities by offering problems a solution. Thorough research regarding problems that could be solved through the product or service being offered provided a point to start. Answer the problems and give solutions that involve the company's product or service. Create blogs and help consumers learn solutions for their problems. Upload content with thorough research and add relative keywords to optimize for search engines.
Well-researched blogs could have a great effect on the minds of consumers, B2B clients know their way around so complex and long-form content has more effect than simple content. Videos could also be an answer to the question, try focusing on video content. Generating leads over the internet could help companies grow their audience.
Social Media
Social Media has shortened the distance between the world, and people can interact with others around the world. Social media has also empowered businesses. Facebook has more than 2 billion users daily and also provides tons of opportunities for lead hunting. Social media advertisements allow you to target advertisements. Sales departments could target specific gender groups, locations, job statuses, or industries. LinkedIn is the best social media platform for gathering B2B prospects. Consumers could be found through their job titles and could be approached individually as well.
Blogging over LinkedIn allows you to offer solutions to the problem of consumers, and market your product through different means to capture prospects. LinkedIn allows you to target leads based on the customer profile characteristics, and filters on ads allow you to choose a specific audience to target the advertisement which could improve the conversion results. Social media is one of the top platforms that allows you to gather buyers for your business. Create a user-friendly profile that has testimonies from viable clients, and utilize such profiles to approach clients. Provide all related information about the product being advertised, so customers could learn better.
Events
Events are the one place where you are face-to-face with clients, such opportunities come seldom but allow you to grab leads. Decision makers are present at events and sales representatives could use their persuasive abilities to capture their attention and nurture them. Lead generation at such events is low but has higher conversion rates. Reps could only meet a few people and have to fully engage to satisfy. Companies often practice for events because of their importance. Events are of different types and the lead collection method for these events also differ.
Conferences, exhibition, and online meeting all events have their importance, and the sales department prepare for such events in advance. An exhibition is something where companies show their products to the world and face competition head-on. At exhibitions, reps prepare extra to represent their companies. Competition is always high but brands can show their superiority through their products. Decision makers make an opinion about the products which could influence their future decisions. Conferences also allow companies to represent their products and services, here reps have to meet people individually and convince them to provide information. Lead generation at an exhibition depends upon the quality of the product and at a conference, it's on the quality of prospecting.
Cold Calling
Cold calling for prospecting could be annoying but done well it could show its magic. Marketers use cold calling mostly in the case of inbound lead collection. Inbound prospects are already in touch with the brand and have shown their interest by filling out a form or contacting the company. The conversion rate of inbound prospects is high because they come willingly, however, if prospecting is done wrong could impact the outcome. Inbound prospects are contacted with a cold call. Cold calls are effective in such cases where a relationship has already been established between the seller and the potential buyer.
Cold calling in outbound lead gathering is also utilized; however, interaction is initiated with emails. Phone calls are also utilized on and off during nurturing period to gain clients' confidence. Emails have potential but once the relationship is established, calls have more impact. Emails make the cut but to go deep, companies use calling. Sales cadence is utilized to schedule calling consistency. A lot of calls and customers can get annoyed and not consistent enough, competition can eat your client up. Cold calling is tough to handle source but once you master it, it can do wonders.
Strategic Partnership
The strategic partnership could be associated with prospecting in one case and not in the other. A strategic partnership is where a company joins hands with other companies to fulfill its requirements. They could do it by purchasing the product or service. Companies combine efforts to work together to grow quickly. Condition in the strategic partnership is different but could help companies push the cart. Generate leads and find companies that need help and enquire partnerships. Make sure that your brand could also get something out of it, combining both companies and prospects together. A wedding dressmaker and flower shop could work together. Whatever brand finds the client, it would benefit both. Companies often come together where they could help each other and find a lead that could be clients to both.
---
Conclusion
Prospecting is essential for businesses, gathering clients through lead gathering could help organizations grow. However, the sales department finds it difficult to generate leads. This article provides help for marketers and sellers in companies to find prospects. Sources listened to in the article could help companies gather more prospects for their growth.