Lead generation emails are significant for businesses if we look at their performance. Businesses use emails to approach customers and to convert them into regulars. Advertisement teams need to reach out to buyers to sell them their product, but to approach customers, they require a medium that does not disturb them. Cold mailing is the best way to approach consumers that can become future buyers. Identifying prospects and knowing about their interest is the initial step, and then comes the communication that occurs through mails.
Advertisers to start a communication with a consumer-first identify who they are and what do they have interest in. There are several ways that help you find the information about the prospects, and then comes the mailing stage. You can use the email lead generation method to start communication with people, nurture them, and develop their interest in your product. You can ask for reviews and further tell them to bring more clients from their references. Mails play an essential role in this whole process of creating new clients for your business.
What is Email Lead Generation?
Email lead generation is a technique to identify new clients and approach them through mailing. There are several ways to approach consumers through the mail, different scenarios require different methods of approach. This article will help you learn all about the use of mails for identifying and nurturing purchasers. You must read till the end if you want to learn all about it.
So, lead generation emails play the most vital role for the marketing team. However, this is a traditional method but still capable of good results. Some marketers think of this method as an obsolete method of outreach. However, experts disagree with their opinion; according to experts, this is the most efficient and trustworthy method of approaching clients. This requires the least cost and brings in good results. Most organizations use this method of outreach to communicate with clients.
Why is it Important to Use Email Lead Generation?
It is not essential to use lead generation emails to reach out to people in the market and further gain their information and nurture them. However, the mailing can ease up the process and provides a convenient platform to engage with the people out there. Emails are not disturbing, and if one doesn't want to receive your emails, they can simply block you or can ignore them. Cold calling is also a prevalent method among companies, but the downfall of this method is that calls can disturb the prospect and reduce their trust in the company. Following are some of the benefits of using mailing:
Automation
Emails provide you with a platform that doesn't require human intervention. You can use lead generation emails to outreach people, and you can do it without any need of involving employees. You can enter the data available and leave everything to the software that can do the job for you.
Initiate Communication
Mailing is the best way to initiate conversation among both parties. Customers, if they want to inquire about the product, use this medium to approach the firm, and the firm also uses them to start communication with the other party. Lead generation emails are the best method as it doesn't disturb either party.
Low Cost
Automation allows marketers to reduce the cost spent on creating customers. Low cost can increase the profits of the company hence benefiting the producer. Increasing sales is one task, but in order to further increase the profits, organizations try to reduce their cost. This method can reduce the cost as no human intervention is required, and sending emails is also mostly free.
Build Trust
This is a medium that builds trust among both parties. If you send follow up emails that show concern for the purchaser, either B2B or B2C. This builds trust and helps organizations turn them into regulars.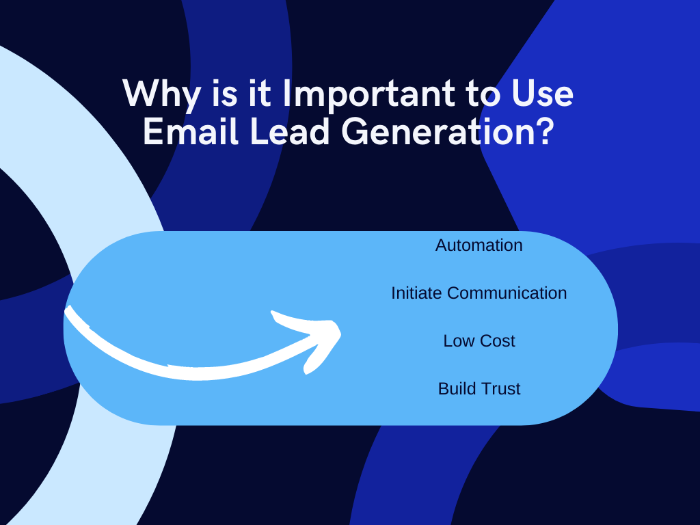 Types of Sales Email Templates for Email Lead Generation
Different scenarios require different methods to tackle the problem, and the following templates are the solution to different problems advertisers face in an organization. Mailing is the most effective method to approach the prospects in the market; however, some mails cannot be sent to all people. Each scenario requires a different way of approaching it. You can use the templates to promote your product effectively. Effective templates for email lead generation yield far better results than standard mail.
Following are some mailing templates that one can use to approach prospects in the market. The templates are classified into different categories for ease:
Approaching
General Approach
Often companies are not able to collect enough data about their customer before contacting them> if you don't know much about the person you are approaching or you don't have any specific reason to contact them, a general approach can work just fine. Type in the content in such a way that it has a general theme. Start your message by stating, "We hope this product might have your interest". A perfect way to start interacting with a new client is through email lead generation.
Approaching Right Person
A strategy that helps start communication with any B2B customer is to approach with the request of your own. Inquire about the right person to interact with. This method helps you slide into any company easily and gain data about the prospects. Ask, "help me find the right person to contact?" in sent lead generation emails.
Social Media Reference
Social media is a way to approach your recipient by providing them with a link to your social media post. You can provide them with a link to your social media post. Social media has the power to make people do many things efficiently. Post an exciting post on social media, and this can make the person fall for the trick of providing their personal information. Social media can take them to the company's blog.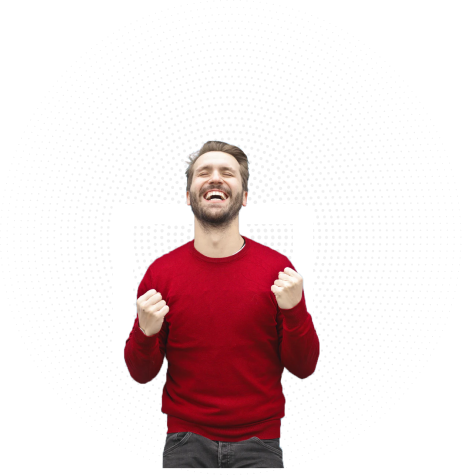 Need more warm leads ?
Outsource the routine process of lead generation with Periodix
Similarities
If you find similarities between the company and potential purchaser, exploit them. If you are directed to a customer through another customer, give their reference in your mail. Email lead generation will positively affect the customer seeing someone they know buying the product. This builds trust among both parties.
Follow-Ups
Follow Up to Unresponsive Clients
Organizations often send out lead generation emails to gather prospects; however, not all emails are responded to by the clients. The people do not return all calls, and therefore a follow-up email might increase your chances for trade. You can add content that refers to your previous outreach to the client.
Trial/Demo Follow Up
Free trial or demo builds trust among consumers; however, a follow-up email can guarantee a sale. Mailing to get an idea about consumers' perspective increase the capability of the marketing team and help understand consumers better. Compose your message by starting it as: "It was a great time we hope, now let's buy our premium package to continue your experience."
Event Follow-Ups
Organizations use events to physically interact with people in the market. Purchasers don't share their experience right away; mailing them afterwards provides knowledge about their experience by asking: "Nice to meet you, and we hope you were satisfied." Email lead generation helps understand consumers further.
Inactive Members
Mailing Is not limited only to new members; cold mailing to old members who haven't been active for a long time might result in future trade. Members are being approached by competition, and a mail asking about their health and inquiry about the reason for being inactive can build more trust. "We hope you are fine. We haven't been in touch for a long time," email lead generation will help you find out the reason for their inactiveness.
Nurture
Cost-Benefit
Provide customers with an overview of your product how your product or service will provide an edge and reduce their cost. Cost-benefit analysis has a lot of importance for both customers and organizations. An integral part of nurturing process, consumers must know how your product will provide them cost benefits. So, provide an overview and data charts through email lead generation, starting as: "Our product is highly cost-efficient as it costs less than any other product of the same quality in the market."
Free Trial
Ask your customer for a free trial once you are done telling them about the cost benefits. Now provide them with a free trial of your product. Once people start using a product and know it has benefits for them, they cannot stop themselves from buying. After building trust through conversations, ask potential buyers to have a free trial through lead generation emails. Start by stating, "As you know, our product is high-efficient; we want you to have a free trial, so you can understand what you are purchasing."
Comparison
Compare your product with the competition, an essential part of nurturing through email lead generation. Keep data provided for comparison accurate and stick to the strong points of your product. Talk about competition first, and then provide your vital areas with data. Consumer needs data to believe; once you provide correct data to help them, trust will increase. Write one or two features of the competition's product and then give a comprehensive overview of your product with facts. Keep email concise and accessible.
Reviews
Product Review
Most consumers are satisfied with your product,, but trust levels increase further once you ask them about your product. Through email lead generation templates, you can inquire about your product performance and suggestions for its improvement. Add the link to your website to get a solid review from customers. Let them know you are interested in their suggestions through your mail, "We are thankful to you for choosing our product. Tell us about your experience, and if you want any improvements, your suggestion is valuable for us."
Service Review
Once done with your service, an inquiry email regarding your performance helps evaluate your work. Email template for this job will help gain reviews on your web platform. Ask for their reviews about service, focus on making them feel special. Provide a link to a website where you want buyers to share their thoughts. Advertisers focus on reviews as positive reviews on websites bring in high traffic. New customers believe reviews more than anything else.
Referrals
Referring
Word of mouth is the best way to market products. Marketers rely on word of mouth because its effectiveness is higher than other advertising methods. Email Lead generation templates help the organization make customers do their job for them. Appreciate their efforts in purchasing your product and providing good revies on the website. Ask them about any know prospect who might be interested or tell them to spread to gain some benefits on their product, like a discount.
Social Media Influencers
Marketing changed with the rise of social media; as said earlier, word of mouth has importance for clients. Social media influencers have a high impact on followers; followers try to adapt to their lifestyle. Influencers use different techniques to lure them into buying products they want them to. Marketers should research influencers who can provide better output. Use email lead generation templates and approach them through mail stating your purpose. Inquire if they are willing to promote your product over benefits.
Conclusion
So, Marketing efforts are changing with time; however, the importance of email lead generation is still high. The email has been highly productive for marketing. Advertisers use this traditional method of approach to gain the interest of the consumer in their product. Templates of several types are provided to increase automation in the process. Automating marketing through emails can yield results that companies do not expect. Experts believe in mailing as it is the best medium to initiate a conversation with a stranger, and through effective email lead generation, advertisers can do wonders.